---
---
---
---
This Web Site
Designed and Created
by Jeff Rocheleau on
January 24, 2001

Latest update on
August 1, 2022
---

Explore our infinite ATV trails!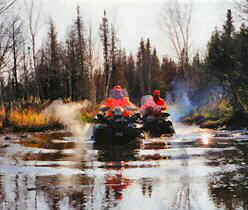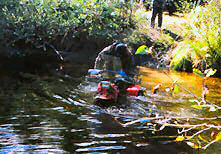 Access to hundreds of miles of ATV trails that begin right from Argyle Lake Lodge. Trails vary to accommodate everyone from ATV beginners or the experienced rider. Pack a lunch and spend the day exploring the beautiful scenic northern wilderness.
Click here to see pictures from an ATV Adventure!
---
Read what ALL-TERRAIN VEHICLE Magazine wrote about Argyle Lake Lodge in their April 2004, Vol. 5 No.3 ATV Buyers Guide edition.
ARGYLE LAKE LODGE

Another Hidden Gem in Northern Ontario
Story by John Arkwright
We've got just the place for those looking for a remote wilderness lodge with literally a thousand miles of logging roads and ATV trails nearby. Doug Rocheleau and Marlene Beatty, owners of Argyle Lake Lodge in Matachewan, approximately 2 hours west of New Liskeard, Ontario (New Liskeard is four hours north of Toronto), offer world class ATV adventures, excellent fishing, great hunting and first class family vacations.
We had the pleasure of riding there for three days last September. This area is known for its excellent grouse hunting, so naturally we bolted on the gun scabbards and brought along the shotguns. We weren't disappointed!
Riding mostly on logging roads, forest access roads and old forgotten trails, Doug informed us that within a five mile radius of the lodge there are 100 different lakes and streams. Gold mines are quite abundant in this area and we had the pleasure of visiting an abandoned mine still active as recently as the 50's. This proved to be a very interesting stop. It's amazing these mineral deposits were ever discovered as they are literally in "the middle of nowhere!"
Our first day of riding was full of surprises as temperatures dropped and it started to snow. Everywhere we rode, there were marked trails leading off in all directions. Doug must have been getting tired of my inquiries as to where these trails lead. His response to me was: "John, I haven't had a chance to ride them all yet, myself!" If you're starting to get the feeling this is an outdoorsman's paradise, you're right!
During our 3-day stay, we experienced mile after mile of great ATV riding and excellent grouse hunting. Now that spring is upon us, I'm starting to think about all those lakes we drove past. Maybe it's time to mount the boat racks and load the canoe; I know the fish are just waiting for us.
Argyle Lake Lodge's cabins are of log construction and offer all the amenities. Cabins are heated with either wood or propane furnaces. Make no mistake about it, Doug and Marlene offer much more than the traditional "male vacation". They cater to family holidays, too. Take our word for it: your visit to Argyle Lake Lodge will be memorable and enjoyable and we guarantee - you will be coming back for a second visit.

Reprinted with permission from All-Terrain Vehicle Magazine.
All-Terrain Vehicle Logo and Story Copyright © All-Terrain Vehicle Magazine.
---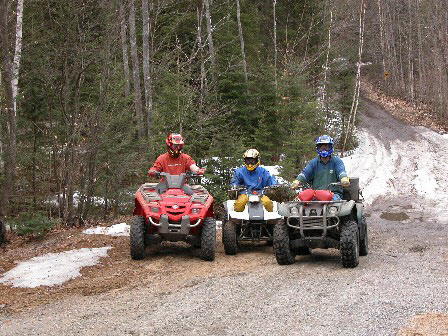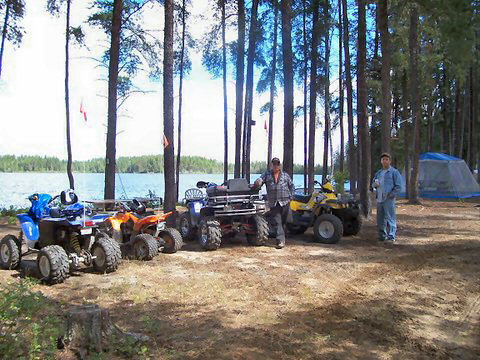 Click here to see pictures from an ATV Adventure!
---